Jopeena is 3 years old! No, that is not my baby's name! What better way to celebrate our anniversary than to eat at an elegant restaurant? A trip to Hong Kong of course! But this is about an elegant restaurant! He chose Cafe Ysabel and it was perfect for our special day.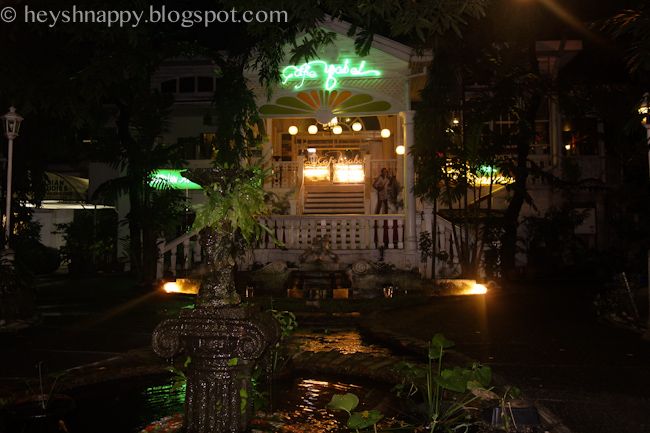 It looks like a really pretty ancestral house from the outside
I bet the outdoors is especially lovely during day time. There is a pond and a fountain with really big fish.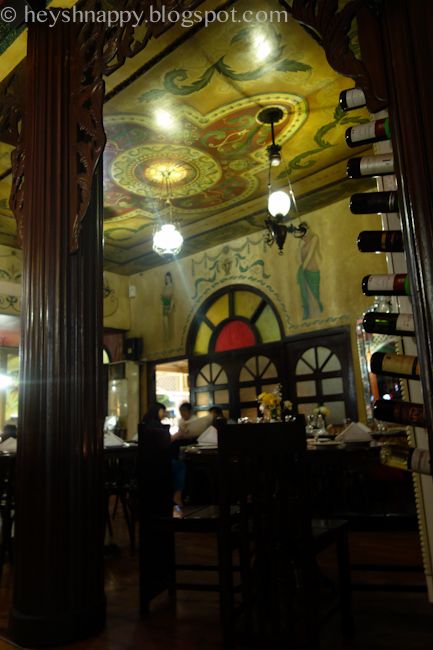 I really like the fine details on the woodwork and painted walls
The cafe is beautiful. You have the antique lanterns on the ceiling, old paintings on the wall, etc.
Not going there on Feb 14 has its perks
Oh let's not forget the fancy bathroom.There's even a couch inside, just in case you need a selfie while sitting down.
Then there's this pretty doll to greet you on your way back to the table. Look at the detail on her top!
Look at the detail on her top!
They were very attentive whenever we needed water. Kuya waiter was nice enough to accomodate our request, he took our picture outside the restaurant!
The appetizer was 2 pieces of regular bread, but the dipping sauce was heavenly. Jopet asked the waiter what's in the sauce. He said it had balsamic vinegar, olive oil and secret herbs. I think it has unicorn breath. Because you know, unicorn breath makes things magical.
Life of Pie
We ord
ered a 4-Cheese Pizza as well. The crust wasn't a problem since I only eat it if it's stuffed with cheese. The pizza was very thin and not
oily, yum! Let this be a symbol of love, it's what's on the center that counts!
I am better than turon!
Because you can never have too much cheese (exceptions: relationships, cheesy couples are bleh, haha I'm sorry for not being sorry), we also ordered
Crispy Cheese Rolls with Mustard Créme Sauce.
The sauce was goooood. I think it's honey mustard, also with essence of unicorn.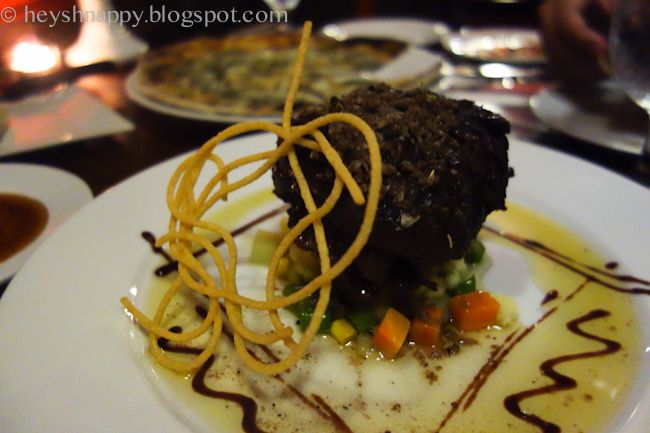 Steak with a ancy shmancyloopy bread thing, good stuff!
For our main course, we ordered
steak
. I am sorry for not taking note of what the steak was. Please refer the waiter to this blog to know the name *wink wink*
The meat was very soft and flavorful. It came with a loopy crispy bread thing, mashed potatoes and veggies.
How I wish we still had room for dessert!
We ate a heavy merienda prior to dinner. Look at our sincere smiles! Just look at it!
Overall, we enjoyed our dining experience at Cafe Ysabel. We think it's best to go there on regular days since it's a really popular dining spot. Good luck to you Valentine's people!
For more information on Cafe Ysabel, visit http://www.cafeysabel.com/Home.html
455 P. Guevarra Street, San Juan
(632)726-9326 and (632) 725-5089
Where are other good places for anniversaries? Leave a comment below!